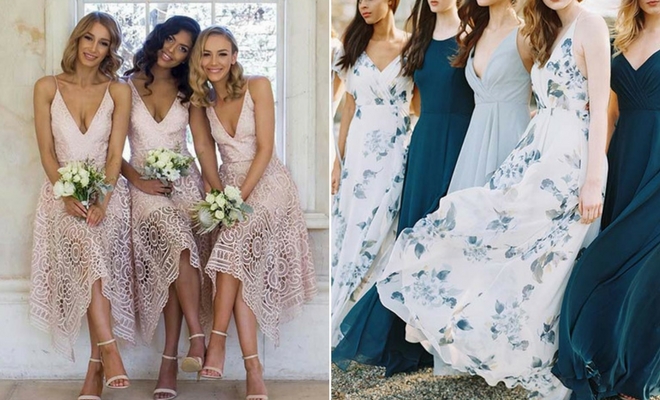 1. SOMETHING BLUE BRIDESMAID DRESSES
First up we have these beautiful blue bridesmaid dresses. Not only will these suit a spring wedding, but the dresses can also be the bride's something blue! We recommend choosing a light pastel blue like the dresses featured as pastels are perfect for spring.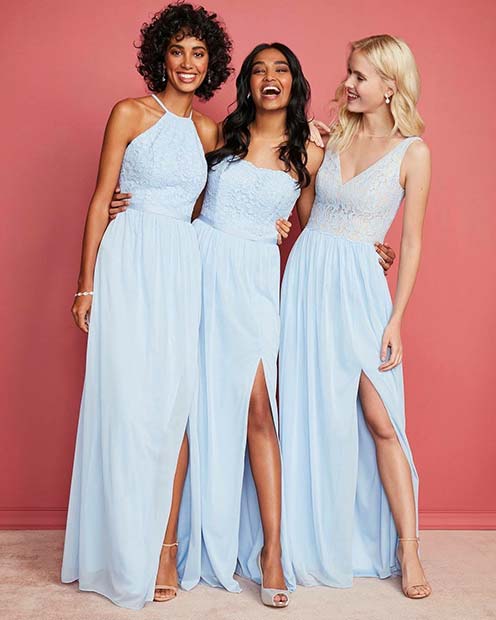 2. BOLD, YELLOW BRIDESMAID DRESSES
We couldn't have a spring list without featuring yellow! Yellow is a bright and sunny color which is perfect for the season. Our next dress idea shows how stylish yellow bridesmaids dresses can be. You could choose floaty dresses like these or maybe shorter ones. Pastel yellow would also be a lovely choice.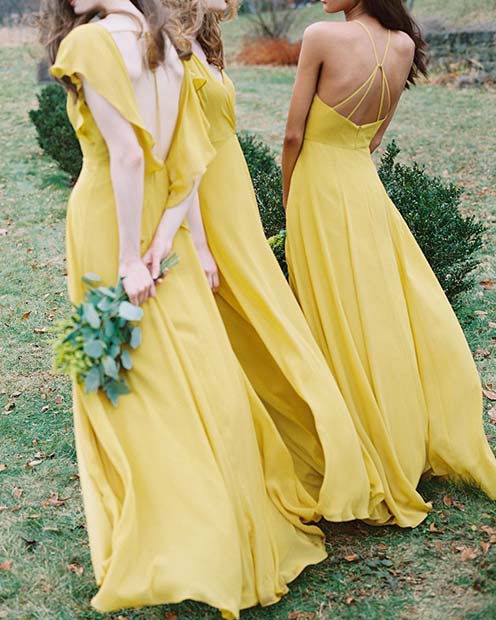 3. SPARKLY SWEETHEART BRIDESMAID DRESS
Glam up your wedding and choose sparkly bridesmaids dresses like this one. This dress has a sweetheart neckline and is floor length. It is also in a soft color and neutral colors like this suit everyone and will match a white bridal gown perfectly. A dress like this is a must have for a chic wedding.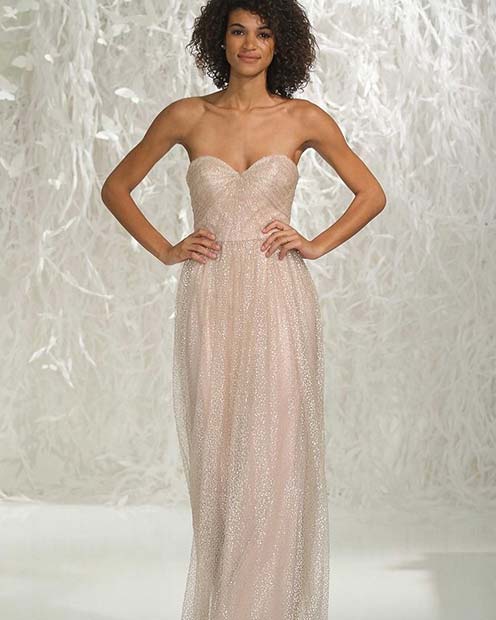 4. ELEGANT BOHO BRIDESMAID DRESSES
One of the trends that always comes back around during the spring and summer is boho. You can bring this stylish look to your wedding with dresses like these. The dresses are in a beautiful pink shade and have a lace overskirt. Your bridesmaids will look elegant and trendy in dresses like these.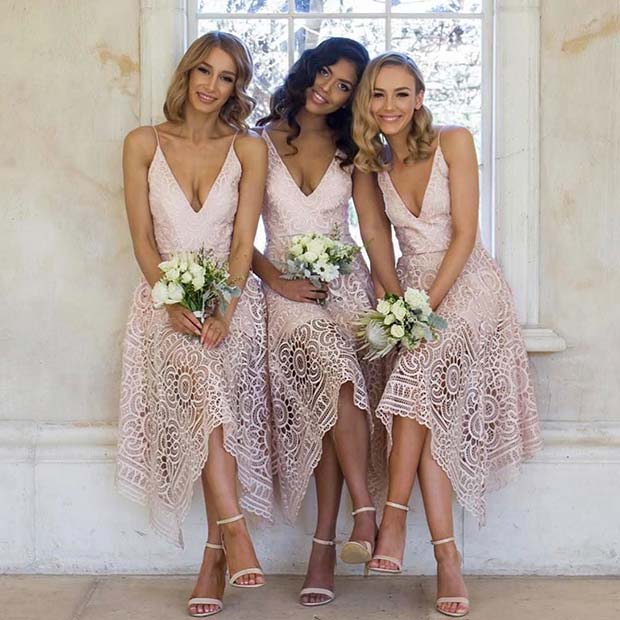 5. SOFT SPRING BRIDESMAID DRESSES
Soft pinks are always great color choices for weddings. Light pink tones suit everyone and makes any dress style look beautiful. For a spring wedding we recommend choosing elegant and floaty dresses like these. We love the dress in the middle it is stunning!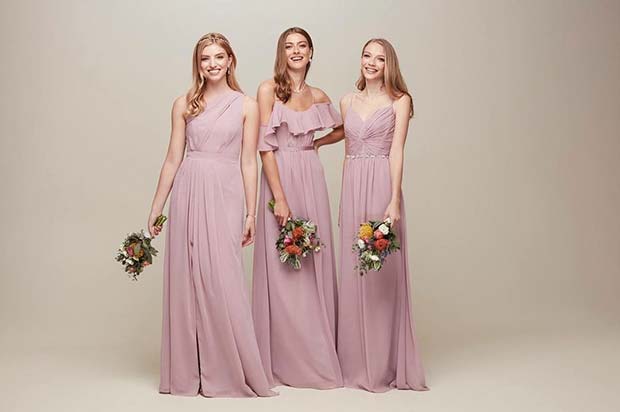 6. KHAKI AND FLORAL DRESSES
Maybe all the pretty colors are not your thing. Maybe you want bridesmaid dresses that are trendy instead of traditional. If this sounds like you then our next idea could be perfect. The bridesmaids at this wedding are wearing khaki dresses, there is also a floral one to. This color would be great for a spring wedding outdoors.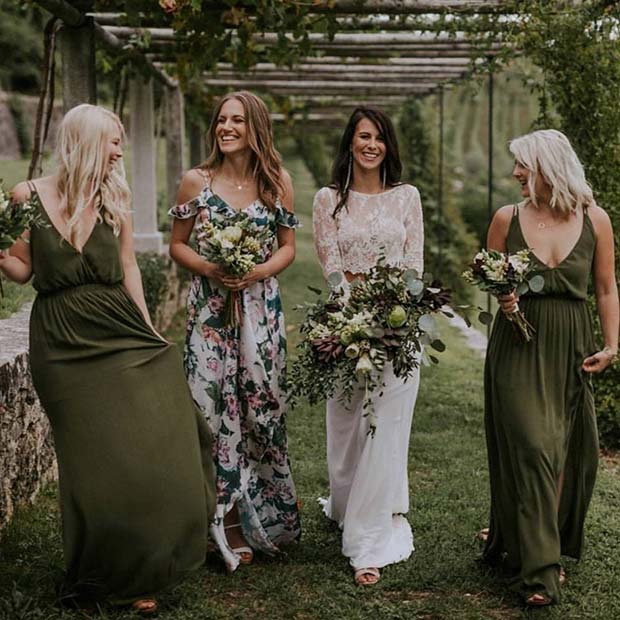 7. SPRING OFF THE SHOULDER DRESS
If you want your bridesmaids to look trendy, then our next pick could be for you. This bridesmaid is wearing a floor length dress that has an off the shoulder feature. Off the shoulder dresses are super stylish so would be perfect for the special day. You could choose any color but a light one like this would be great for spring.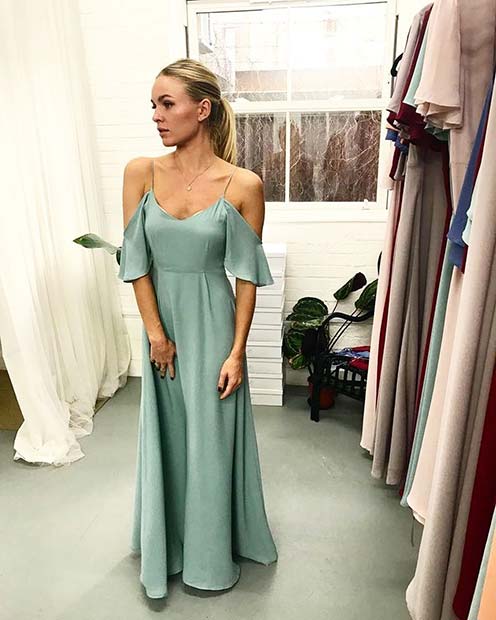 8. LIGHT AND FLOATY BRIDESMAID DRESS
Everything about our next dress is perfect for the spring. The dress has the classic light color, is very elegant and is floor length. A dress like this would suit everyone and if you show this dress to your friends and family they will all want to be bridesmaids!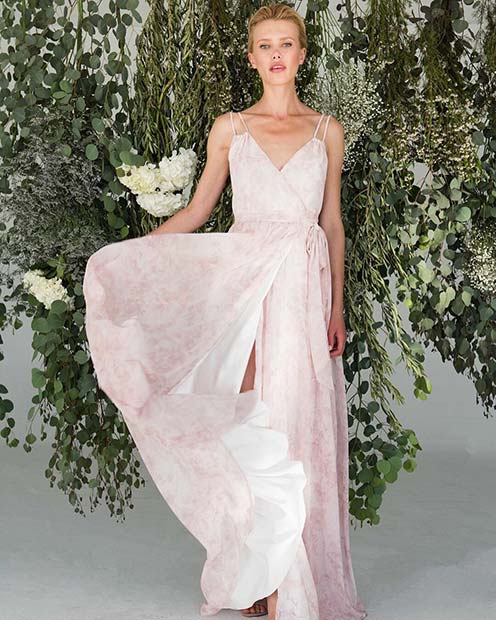 9. BEAUTIFUL PURPLE BRIDESMAID DRESS IDEA
Purple is perfect for any wedding. The color is romantic, pretty and elegant. Our next dress features a beautiful purple shade. Purple will suit any dress length and style. You could choose a shorter dress or something long and floaty like this one.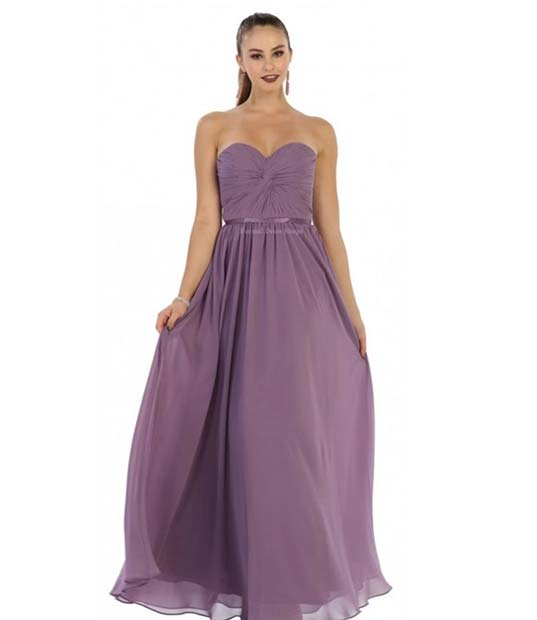 10. SPRING BLUE DRESSES
Next, we have a beautiful selection of blue and floral dresses. All these dresses would be great choices for a spring wedding. You could choose one dress style you like or maybe have your bridesmaids wearing different shades and prints. This allows your bridesmaids to show off their individual style.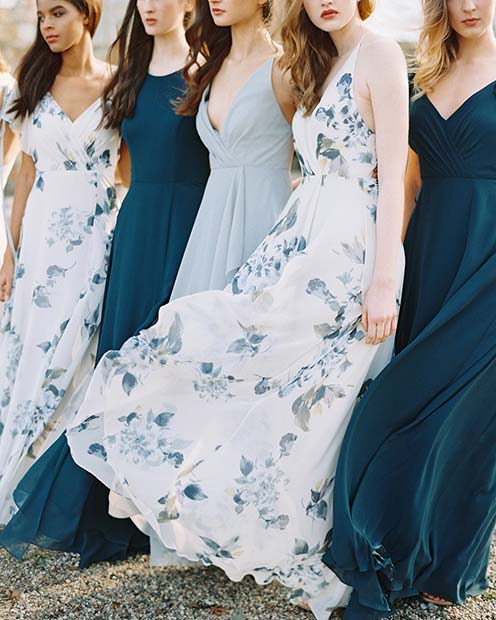 11. BOHEMIAN BRIDESMAIDS
Earlier we mentioned the boho wedding theme. Our next idea shows how your bridesmaids can wear bohemian dresses in style. Each one is wearing a different print and color. You could take inspiration from one dress or try them all. Either way dress like this will brighten up any spring wedding.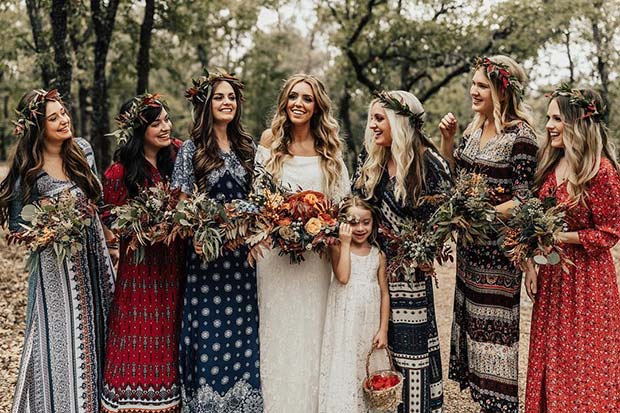 12. SPRING LACE DRESS
Lace is a must have for a wedding. Our next dress features a white lace top and a soft pink skirt. The color and style of this dress is perfect for any wedding. To recreate this look you could use separate pieces and the skirt can be in any color of your choice.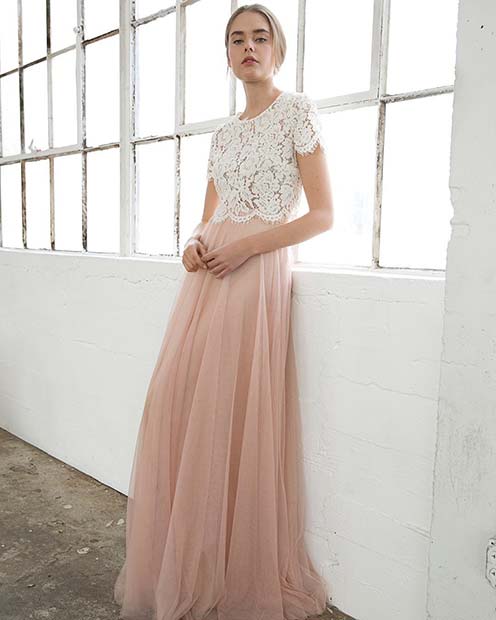 13. TULLE SKIRT AND SWEATER
Our next idea features two separate pieces. We know this is a dress list, but the two separates look so cute and you can make the separates look a like dress. The sweater and tulle skirt are such a stylish combination. You can choose whatever colors you like, and the bridesmaids could even wear different colors.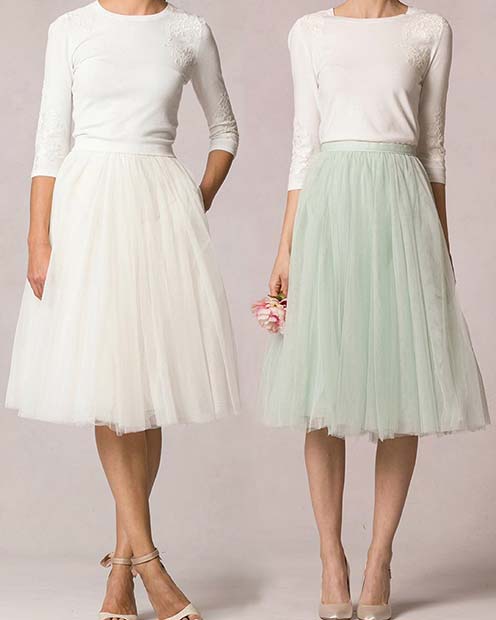 14. LIGHT PINK BRIDESMAID DRESSES
Light pastel pink is perfect for the spring. These next dresses will suit any wedding theme. You could have separate styles like these or you could choose one similar dress for all your bridesmaids. Pink dresses like these will suit everyone. Not only that but pink looks great with a white bridal dress.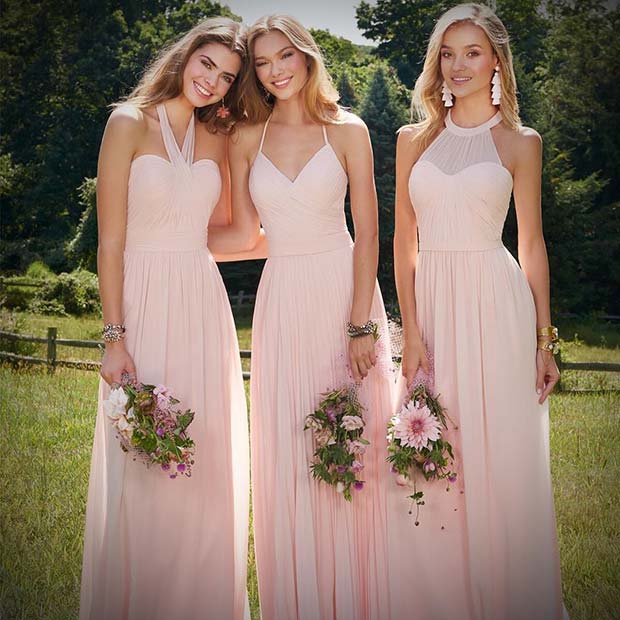 15. VIBRANT FLOATY DRESS
Next, we have a gorgeous vibrant dress idea. The dress is floaty, floor length and has beautiful sleeves. A dress like this will bring vintage glamour to the wedding. You could choose a similar color or maybe even a light pink or blue. We love this spring dress idea.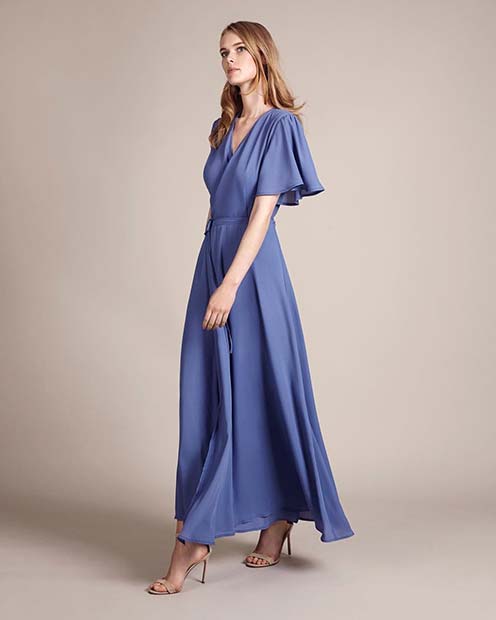 16. FLORAL BRIDESMAID DRESS
Nothing is more perfect for spring than floral patterns. Our next dress idea features a light pink floral print. This is perfect for wedding. A dress like this will suit everyone and all your bridesmaids will love it. You can take inspiration from this and choose your own floral print, yellow would be nice.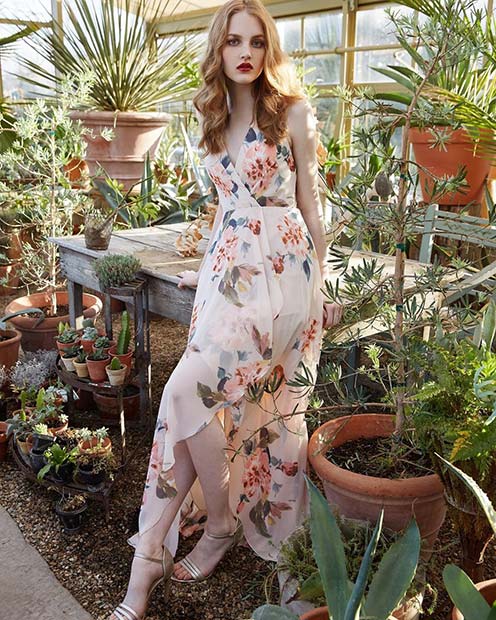 17. ELEGANT SPRING DRESSES
If you prefer simpler dress styles, then our next pick could be for you. These dresses are in a soft, elegant color and are perfect for a wedding. A pastel tone like this is a great choice for spring. You could have long, floor length dresses or go for a shorter style.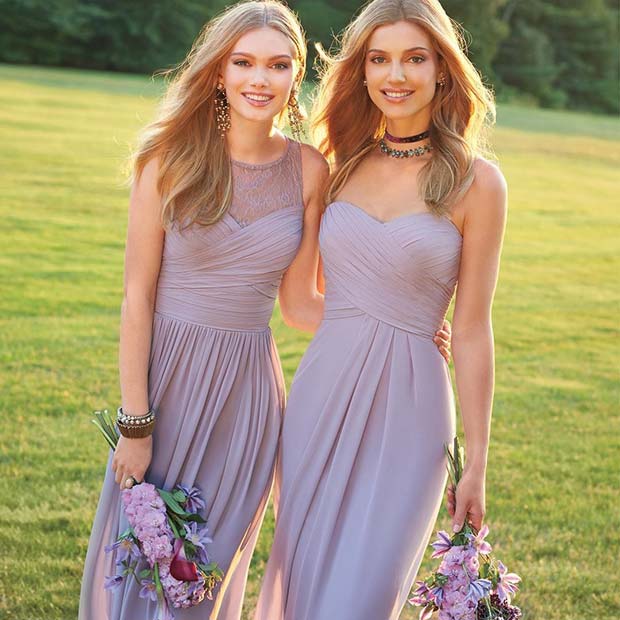 18. PRETTY YELLOW BRIDESMAID DRESS
Earlier in the post we shown vibrant yellow dresses. Our next pick features a softer pastel idea. This elegant dress would look stunning for a spring wedding. These dresses will suit all your friends and family and will compliment the bridal gown beautifully.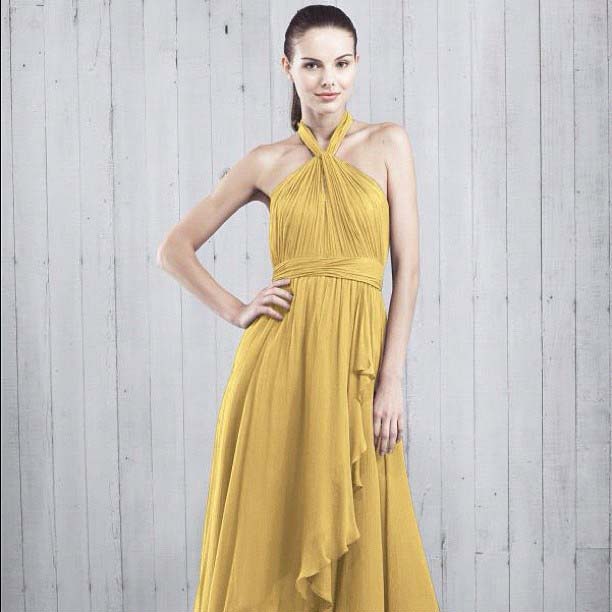 19. COWL NECK BRIDESMAID DRESSES
If you want your bridesmaids to look very glamorous then this next dress idea could be for you. The bridesmaids are wearing dresses in a very light color and each one has an elegant cowl neckline. A dress like this will suit any wedding all year round.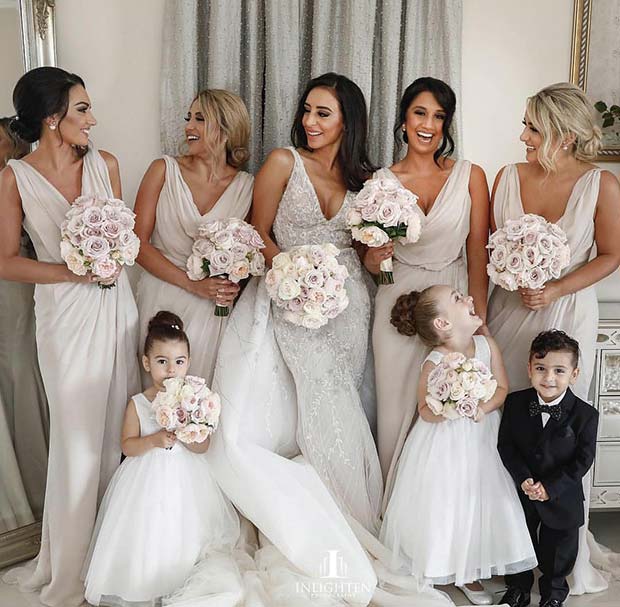 20. LIGHT AND LACY BRIDESMAID DRESSES
Your bridesmaids do not all have to wear the same dresses. You could choose two designs or maybe a different dress for each bridesmaid. If you do choose different dresses it is important that they coordinate. Dresses like these would be a great source of inspiration if you want different dresses that match.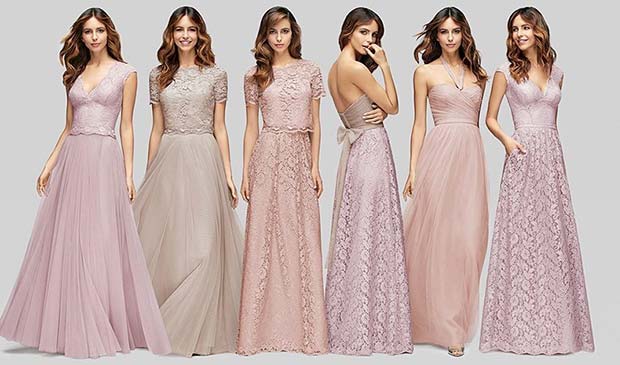 21. WARM ORANGE SPRING DRESS
Last on our list is this warm orange dress. Orange is vibrant color choice that will brighten up any wedding. You could choose a bold orange but as it is spring try and choose a soft, pastel color. Dresses like these would be great for an outdoor wedding or a beach wedding.